hi lovies!
it's hump day!
it's almost spring.
it's sunny!
yesterday i received my email from
inside its goodness was info regarding
'frosting for the cause'...
which basically is exactly what it says:
Bloggers who are volunteering to post on the Frosting for the Cause website have committed to donating to the American Cancer Society. At the end of the year, we will have raised over $9,125 for research that goes into fighting those cancers that affect women.
soooo with that being said, i headed over to the
and guess what??!!??
i am going to be a guest blogger on JULY 2, 2011
whoop whoop!
there are some guidelines you have to follow, but this is such a wonderful idea.
i am so super pumped to be able to commit to this challenge!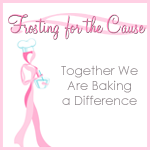 anyone else up for an amazing volunteering opportunity?
i know there are so many people whose lives have been affected by cancer.
if you know a woman who is currently in treatment, there is information on the site
to enlist a cleaning person for them.....for FREE!
i can't decide yet what flavor cuppies i will bake...i guess i have time!
and take note of all of the wonderful volunteers/bakers who are helping fight cancer!
i am amazed.
xoxo