hello lovies!!
it's friday! hollar!
i am elated. this week actually went by pretty darn quick.
which means we are a week closer to sun and spring.
i hope!
this is what i woke up to this morning!!
 sorry for the poor quality....it was thru the kitchen window, with my phone...
but i think you get the 'drift'...literally!!lol
the other day princess #3 and i had a fun day doing girl stuff.
she is a little creative soul like her mama. (probably better then i,.....)
but we headed out for a fun day at
ever been? they have really cool classes and some of them are FREE!
yeppers! free!! so the little princess and i got our creative fill by making some
cards.
heres some of the fun stuff we found!
i need to get a 3rd job for my hoarding issues.
and then sometimes, it sits in the closet for months.... yeeesh.


lots of pink stuff.....i was in heaven....
do you know what i could do with all these flowers???
and the best stuff:
GLITTER. HEAVEN.
then we headed to this fun icecream parlour and had sundaes on
a carousel. yes! a carousel. in the middle of the icecream parlour.
it has been around forever, but this day, i told miss H that i thougth it
was going slightly faster then norm. oye.
not good. going in circles while i devoured this:
yes, that is TWO flipping scoops of french vanilla,
with TWO types of toppings:
peanut butter AND hot fudge....
shush! remember the motto...everything is GREAT in moderation!
this lil peanut was enjoying our carousel ride!
(oh, check out her ADORABLE ring from etsy!!)
and we could not complete the visit without sharing
this pic of peter rabbit.
the GINORMOUS 3 foot tall CHOCOLATE bunny...
hey now.....
malleys has the best chocolate and cashews. omg....see the pretzels below the bunny as well. a
dieters.
nightmare. oye.
oh well, all in a day of good, creative fun!!
i love girl time!
how bout you?
what do you do for your 'girly' time?!?
happy friday all~
stay warm if you are somewhere snowy and cold.
i am linking up with these lovies!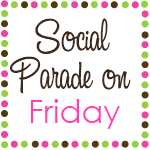 wanna come join in the fun??!!??
xoxoxo