yes, two posts in ONE day. there is a FIRST for everything. i have a hard time keeping up with all of the blogs i follow.....however there is the most adorable blog, i want to mention. teresa from
blooming on bainbridge island
is hosting a giveaway for her 100th posting!!!!
teresa and lisa of lisa leonard designs, are hosting a giveaway. check out the button to the left of this post~
check out lisa's designs
here!!!
this girl has some amazing talent. insert jealousy here. kidding. but seriously she has an adorable website with tons of fun jewelry that she can customize to fit your needs. her
blog
is super cute also!!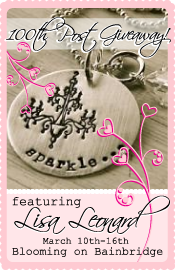 sooo my blends, stop in to say 'hello to teresa and then head over to lisa's! you will not be disappointed!
hugs and love,
t